New Brunswick, Canada - The Chuck Palahniuk Ride
So who is Chuck Palahniuk and what does he have to do with me riding to New Brunswick, Canada?
You can Google him and read about him but you won't know what he has to do with me and this trip. You'll have to stick around to the end of the ride report to find that out.
The who and the what of the whole affair....
Me
Mulley
Lincoln
Darrin
We left Birmingham around 9:00 Saturday morning, July 22nd...........
-----------------------------------------------------------------------------------------------------------------------------------
I had no idea at the time - couldn't have known it at the time - but it all started in April of 2016 on the ride to Key West. Specifically while enjoying drinks and food with good friends at Mallory Square in Key West, Florida.
And it all ended with the pic below.
The details?
Well.......... those will come as I find the time and mental state-of-mind to tell the whole story via the ride report.
Stick around if you want to. No guarantees, but I'll do my best to make it worth your time.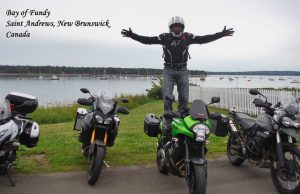 The road trip to Key West was great. We rode from Birmingham to Key Largo in one day, then spent the full next day enjoying Key West.
I loved Mallory Square.
Fast forward a few months. I called Mill and bounced the idea off him. The subject had come up briefly while I had been riding with him in Idaho in late 2015. In early August of 2016 I met him in Anchorage for a week of riding in Alaska.
It was yet another fantastic trip.
We rode a lot and saw some really, really cool stuff. We got to go to Seward and Delta Junction and Valdez. We rode the Denali Highway and saw the Alaska pipeline and glaciers and loads of other neat stuff.
We ate fresh fish on the waterfront in Seward.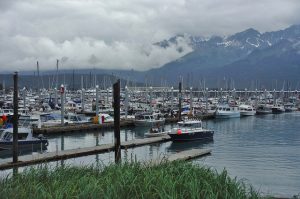 Fast forward another few months. Mulley called me and extended an invite to go with him and a group others. In January of 2017 I was riding in Baja, Mexico. Yet ANOTHER awesome trip. We had a blast! Great riding, great guys and some great food. Despite dining at some really nice establishments along the way, I think the best food I had the whole trip was the fresh sashimi we had. Fish Mulley and I caught on a 1/2 day fishing trip was prepared by the crew we had booked our trip with and it was absolutely fantastic.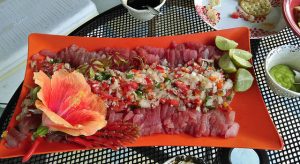 On Tuesday, January 31, 2017, Mulley and I boarded the 737 that would carry us home from Baja. He had the window seat.
The plane taxied to the runway. Very soon the takeoff roll was behind us and we were headed home.
I stuck my earbuds in and listened to some music.
I was daydreaming, thinking about how good the trip had been. How fortunate I was to have been able to make the trip and enjoy all the good times.
And then...... then I got to thinking a bit more.....
Hmmmmm........
April of 2016 I had been in Key West.
August of 2016 I had been in Alsaka.
In January of 2017 I had been in Baja.
There had been great times in all places and I had enjoyed some very fine food in all three locations.
So the seed had been planted in Key West. It had been watered in Alaska and Baja. And it was on the flight home from Baja that it had sprang to life.
"I've been to Key West (SE), Alaska (NW) and Baja (SW). I'm going to Maine (NE) to eat lobster."
BOOM! That was the initial plan in my mind. Maine for lobster.