When Allen Goodwin posts a ride, you shift your plans and cash in all your favors at work to make that ride! Not only will he take you on a tour of some of the best gravel and back roads the area has to offer, his wonderful wife (whom I have come to call Mom) and he will cook you some amazing meals!
Friday afternoon I got off work, as usual, around 11:00 am and headed home to pack up for a great weekend of camping, riding and fellowship! I loaded the 690 into the back of the truck and headed towards Vinemont around 4:30 pm.
I know, I know, I should be riding to the ride! Here is a bullet list of my excuses:
-I didn't feel like installing my rack system
-I don't have lightweight cold weather camping gear
-My truck has heated seats
-My tires are better served in the gravel
-I like to sleep on my air mattress
-I didn't want to
Upon arrival Melony, Dennis and I started setting up tents, ez-ups and coolers. Kyle, Brad, Ben and Drew showed up and spent some time setting up their camp sites. Note to future attendees: don't bring a hammock! The cat really liked the idea of climbing on air mattresses and up the sides of tents so he was put in his room which he did not appreciate!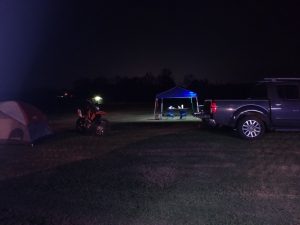 Saturday morning started with some delicious coffee to go along with the delicious breakfast spread. Melony made biscuits n' gravy and Allen cooked 5 lbs of bacon! It was a great stick to your ribs meal to get the day going. During breakfast, Scott, Alex and Win arrived looking well rested compared to us campers! Mike showed up on his V-Strom and we hit the road to Bankhead right around 9:00am as planned!
Allen lead us on a great ride through Bankhead with a majority of the group taking a loop on the Flint Creek OHV trail! With a great stop for lunch at Chef Troy's Talk of the Town we headed out on some roads less traveled!